Interactive Display with Viziware installed at Moscow's Yermolova Drama Theatre
Lanit-Tercom with support from LANIT (parent company) set up an Interactive Display at the New Stage in Moscow's Yermolova Drama Theater, which opened its doors to visitors on October 15th of this year. An innovative development of Viziware, the gesture recognition system integrated into the screen converts digital content into an interactive experience, which passersby can control by using simple gestures. 
The Viziware Interactive Display, installed in the upper and lower lobbies of the New Stage, allows theater-goers to view the playbill with info about the troupe of actors and their current repertoire. They can also make personal photos with the characters in the performance and then send these photos to Facebook. Also, thanks to the interactive application developed by Lanit-Tercom specifically for the theater, guests have a unique opportunity to step into the shoes of an orchestra conductor and have a try at directing the music played by various instruments. In addition, visitors can take a virtual tour of the backstage area, which usually remains hidden from prying eyes.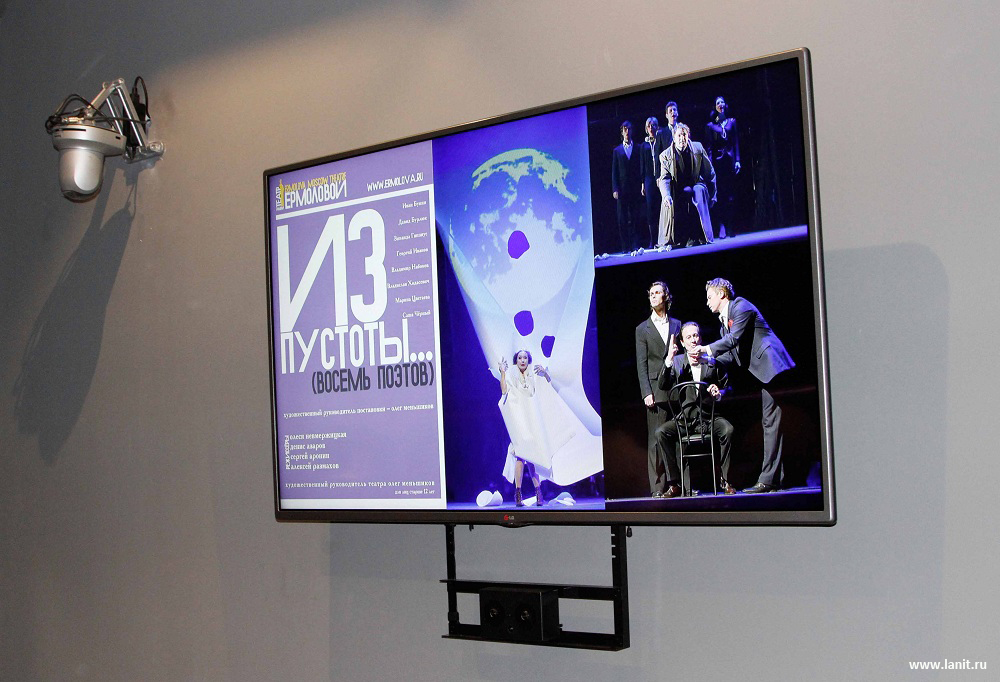 Oleg Menshikov, Artistic Director of the Ermolova Moscow Drama Theatre said that, «We are delighted that our dreams and fantasies of creating a modern, hi-tech theater have found support from professionals who are not afraid of new ideas and are open to cooperation. We are grateful to team members of the LANIT Group and personally to George Gens for his technical support of this project and for providing the Viziware system for the New Stage. With the aid of this new equipment, people of all ages can come to our shows and learn more about the life of the Yermolova Theatre».
Vladimir Ufnarovskii, COO of «Lanit-Tercom» added, «For our company, cooperation with the Yermolova Theater is a great honor. We are very pleased that the Theater management showed such interest in our interactive solutions. We're sure that this system will not only enhance the mutual interaction between theater and audience, but also provide new ways of gathering and using information. We hope that this will be the beginning of fruitful cooperation in the future».