Mathematics and Mechanical Engineering Dept. of St. Petersburg State University continues Cooperation with St. Petersburg IT Firms
On September 10, 2014, on the grounds of the Mathematics and Mechanical Engineering (Mat-Mech) Department, an agreement to implement a joint student educational project between the Mat-Mech Dept., Lanit-Tercom and the St. Petersburg EMC Development Center, LLC was ceremonially signed.
During the event Lanit-Tercom's Executive Director V. V. Ufnarovsky spoke on the history of successful cooperation with the Mat-Mech faculty of St. Petersburg University. Annually Lanit-Tercom and the System Programming Faculty implement joint student projects. Also, the partnership between EMC and Lanit-Tercom has, over the years, been very fruitful, which, according to Mr. Ufnarovsky, will continue to grow.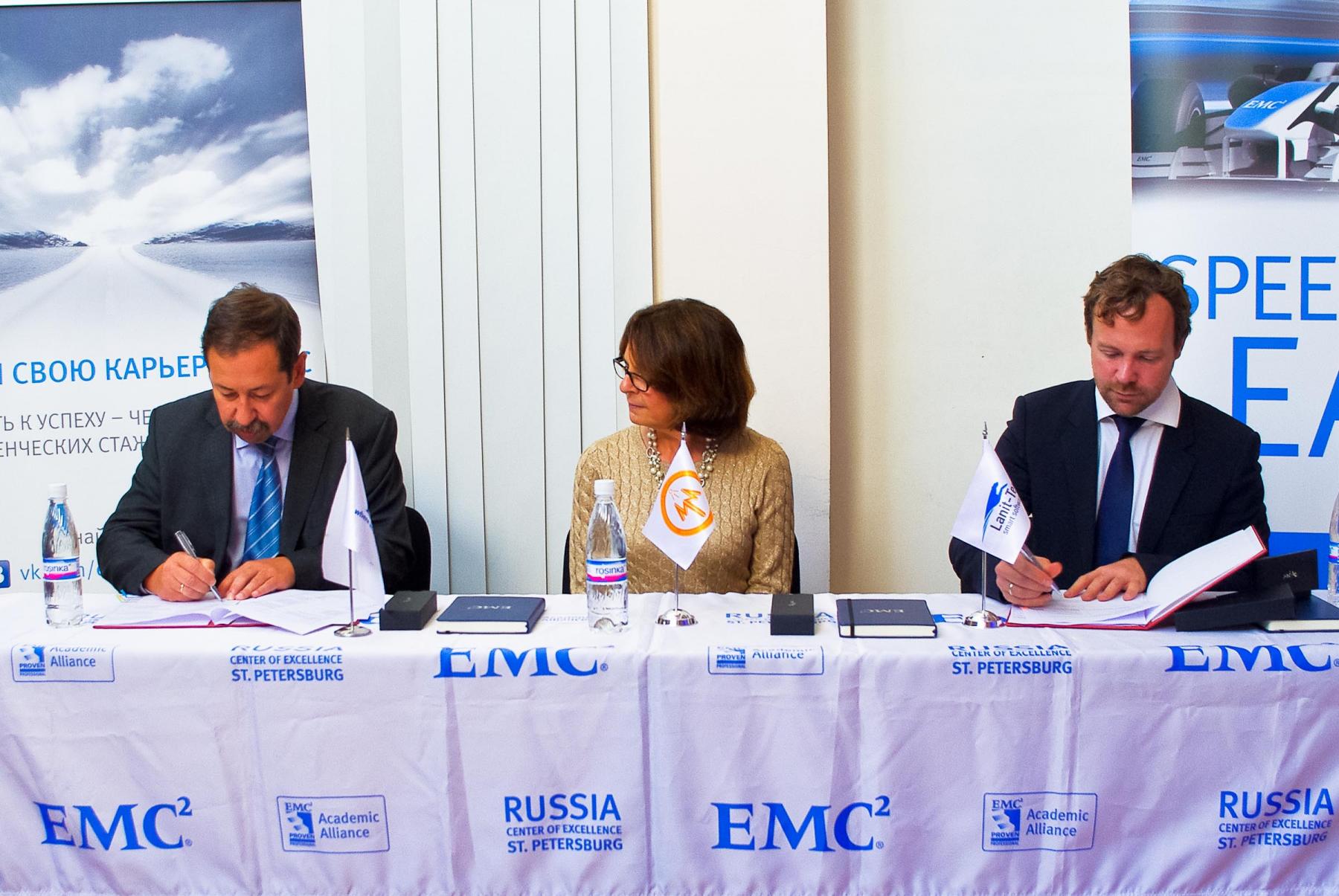 He expressed the view that the combination of theory and practice during education produces a very beneficial and visible impact on the qualifications of the students, and provides the basis for professional and business characteristics that allow them to continue to grow as solid, forward-looking professionals. Because of the students' active involvement in real projects, he considers Lanit-Tercom to be forging IT specialists. In fact, all the department heads currently in the company are former Mat-Mech students who began by working on real-world projects. The Executive Director expressed the hope that cooperation with leading IT companies would be expanded, and the more talented students will receive even further opportunities for training under actual working conditions.
Also present during the ceremony were the Dean of the Mat-Mech faculty, Associate Member of the Russian Academy of Sciences, Mr. G. A. Leonov, Senior Director of the EMSD Development Department of EMC, Inc., Diana Reichlan, the General Director of the St. Petersburg EMC Development Center, V. M. Nesterov and other participants. In addition, various professional engineers who had previously participated in joint student projects gave presentations of their professional development.