Lanit-Tercom student project among top three at Imagine Cup 2016
Lanit-Tercom organizes student projects every year in an attempt to help talented students accumulate both theory and practice in the context of real IT projects. The students work with new technology while also learning how to work as part of a team, and the cream of the crop are offered jobs at Lanit-Tercom itself. The company, for its part, enjoys a steady stream of IT personnel equipped with the skills and experience they need to contribute from day one.
The work students and our specialists do together often results in successful and popular IT solutions appreciated by their users and recognized by international experts.
March in St. Petersburg saw the semi-final round of Imagine Cup 2016 held, and the student project directed by Pavel Fedotovsky, a software engineer at Lanit-Tercom, came away a winner. The students working on the team were Mikhail Kita (mathematics and mechanics, 2nd year), Evgeny Sergeev (mathematics and mechanics, 2nd year), and Ilya Yugov (applied mathematics and control processes, 4th year), all from St. Petersburg State University. The judges awarded third place to TFS Mobile, the mobile app developed by the team, leaving a trip to the Russian final a strong and much-anticipated possibility.
Imagine Cup is an event run once a year by Microsoft. Students from around the world participate, with one of the main conditions being that they have to use Microsoft technology. Our team presented the judges with TFS Mobile, a cross-platform app that offers access to a Microsoft program for project management called Team Foundation Server (TFS). The program includes a system for monitoring versions, managing assignments, assembling projects, and more. "The mobile app lets developers quickly check and change the status of their project assignments from any device. It also streamlines TFS' more technical aspects, making it more user-friendly for non-IT specialists. For example, a designer might install the app to keep tabs on their projects," explains Pavel Fedotovsky. The app runs on a variety of popular platforms, including Windows 10, Windows 8.1, Windows Phone, Android, and iOS.
Pavel Fedotovsky shared his impressions of the competition: "The event was held in Microsoft's St. Petersburg office and was judged by Microsoft representatives as well as IzHard, the team that won last year. Each team had ten minutes to present their work and five minutes to answer questions. Following their presentation, they also got feedback on how they could improve their projects. Most of the participants had developed games, though there were a few projects that qualified as innovations. The projects I found most memorable were: a game used to learn chemistry, a building navigator that uses beacon technology, and a personal trainer. One downside was that all the projects were lumped together instead of being delineated into categories. While two indie games took first and second place, we're still waiting to hear if we made it into the Russian Imagine Cup final."
Join us in supporting TFS Mobile and wishing the team the best of luck!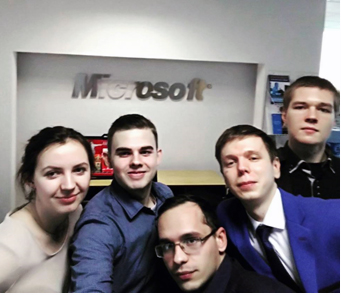 The app is already available for download:
Google Play:
https://play.google.com/store/apps/details?id=com.pfedotovsky.tfsmobile
Windows Store (Phone 8.1 & Windows 10):
https://www.microsoft.com/ru-ru/store/apps/tfs-mobile-edition/9nblggh4q8ll
App Store:
https://itunes.apple.com/WebObjects/MZStore.woa/wa/viewSoftware?id=1097598573&mt=8